Did I tell you I love Christmas ? With all its small joys of finding gifts, ornaments, the tree and the food for all the guests you will get ! But I don't know why all seems to happen so fast and the next thing you know it's over...
This year I started early..Well, it can be Christmas in June , right?
I found a forum that all 365 days of the year (sometimes 366) celebrate Christmas. It is
CHRISTMAS TALK
.
Among all the beautiful things that can be found there there is also an ornament exchange . (Now is closed.) You sign up for the exchange, you wait untill the list closes and then you receive a name.Is your partener swap but you have to keep the secret because you are his secret Santa ! This is my first year participating and, guess what :
I received my ornaments already !!!
Feels like Christmas is so close ! Here is what I got :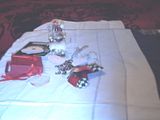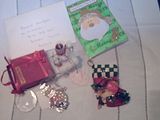 These came all the way from...

The Isle of Man !

Yes , I know, where is that ?

Here

I found out : between Ireland and UK ! And on the small round ornament was the flag of their country !





I sent my ornaments to Ontario, Canada. Unfortunately, I don't have a picture of the things I sent but they were mostly crafted...